Caleb Putnam hangs sheets of cheesecloth on the line after washing them at his family's farm in North Pomfret, Vt. on August 25, 2014. The fabric is used to remove the curds from the whey. Caleb's parents, John and Janine, own Thistle Hill Farm, which produces organic Tartentaise cheese. Traditionally, John has made the cheese, but this summer, he taught Caleb the process. This was only Caleb's third time making cheese without his dad around.
Heritage Hills' Logan Steckler walks out of the locker room before the game against Evansville Mater Dei at Heritage Hills in Lincoln City, Ind. on August 23, 2013. It was both the first game of the season and Steckler's birthday. Mater Dei won 37-14.
Sarah Thompson looks through a magazine as her son Wallace, 7, peeks over the top while her husband John and their other son Lysander, 4, ate lunch at their home in Georgetown, Maine on February 28, 2014. Sarah, who is originally from Concord, was diagnosed with leukemia in 2010, then was in remission and feeling hopeful, and now needs a bone marrow transplant. NH Technical Institute will hold a marrow drive as part of its Wellness Fair on April 1.
Miss Tennessee, second from right, and Miss West Virginia wait backstage for their turn on the runway during the swimsuit competition at the Miss Queen USA pageant at the Circus Disco in Los Angeles on July 30, 2012. The pageant for transgender women was started by Karina Samala, a transgender woman who has been a champion for transgender equality. Miss West Virginia won the pageant, while Miss Tennessee was second runner up.
Junior Miss Herbstfest contestant Arrington Hartke hugs fellow contestant Calista Martin, both 8 and of Holland, while the judges deliberated at League Stadium in Huntingburg, Ind. on Sept. 27, 2013. The two girls were the only ones from Holland to compete in the pageant.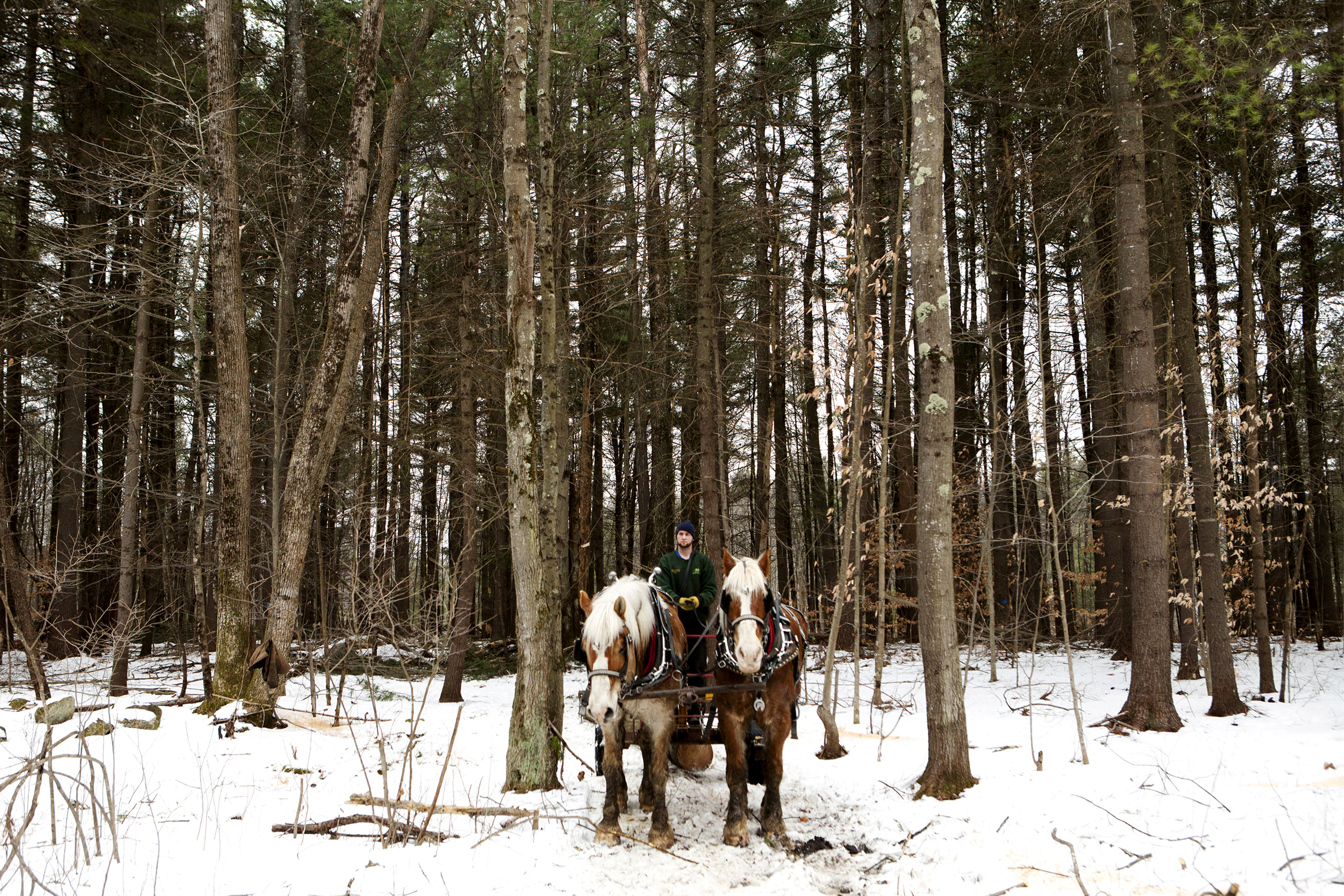 Jackson Riel and his team of draft horses, Captain, left, and Duke, pull a freshly cut pine out of the woods behind Grange Hall in Chichester, N.H. on February 1, 2014. The Chichester Conservation Commission thinned out the woods using draft horse teams in order to make the selective cut logging job as low impact as possible.
Audra Beck of Jasper surprises Jasper Parks & Recreation Department director Dave Lesko by spraying him with silly string during Final Play Day at Jaycee Park in Jasper, Ind. on July 24, 2015. Lesko is retiring from the director position he has held since 1990. "I've watched a lot of these kids grow up over the years," said Lesko.
Lebanon's Kuda Muhlauri heads the ball during the game against Hollis-Brookline in Lebanon, N.H., on Oct. 14, 2014. Hollis-Brookline won 2-0.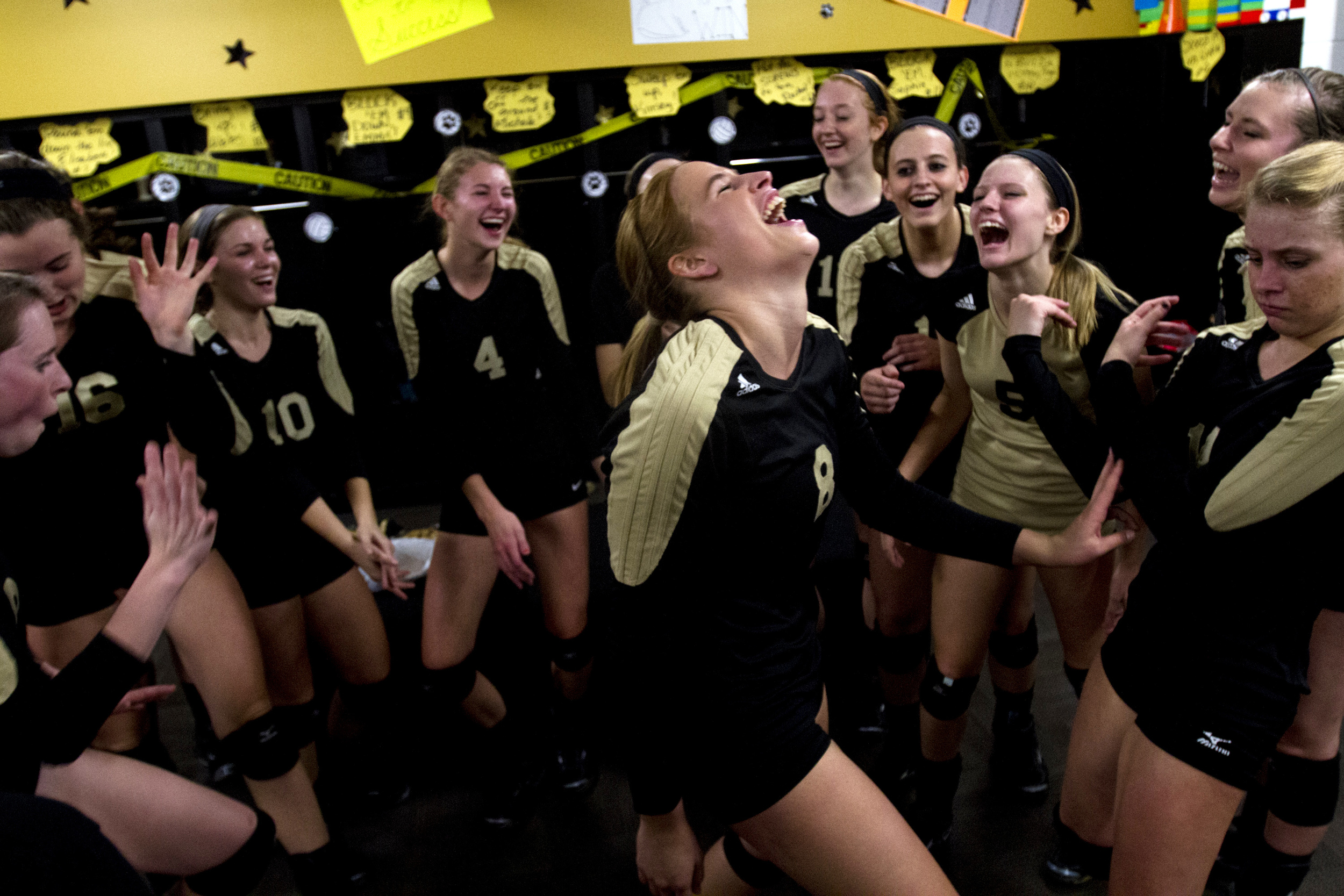 Jasper's Tori Sermersheim dances with her teammates in the locker room before the Class 3A girls volleyball sectional against Washington in Jasper, Ind. on Oct. 24, 2013. The Wildcats won in three sets.
Living Roots Ecovillage farm apprentices Emily Spatt of Fort Wayne, left, Mecie Delffs of Grant Rapids, Mich., and Emily MacGibeny of New London, Conn. soak in the last rays of light across the street from the ecovillage in French Lick, Ind. on July 24, 2015.
Jasper coach Ryan Erny tells senior Regan Hedinger that he is proud of her after Jasper lost the Class 3A girls basketball sectional semifinal to Vincennes Lincoln in Princeton, Ind. on Feb. 5, 2016. The Wildcats lost 47-26.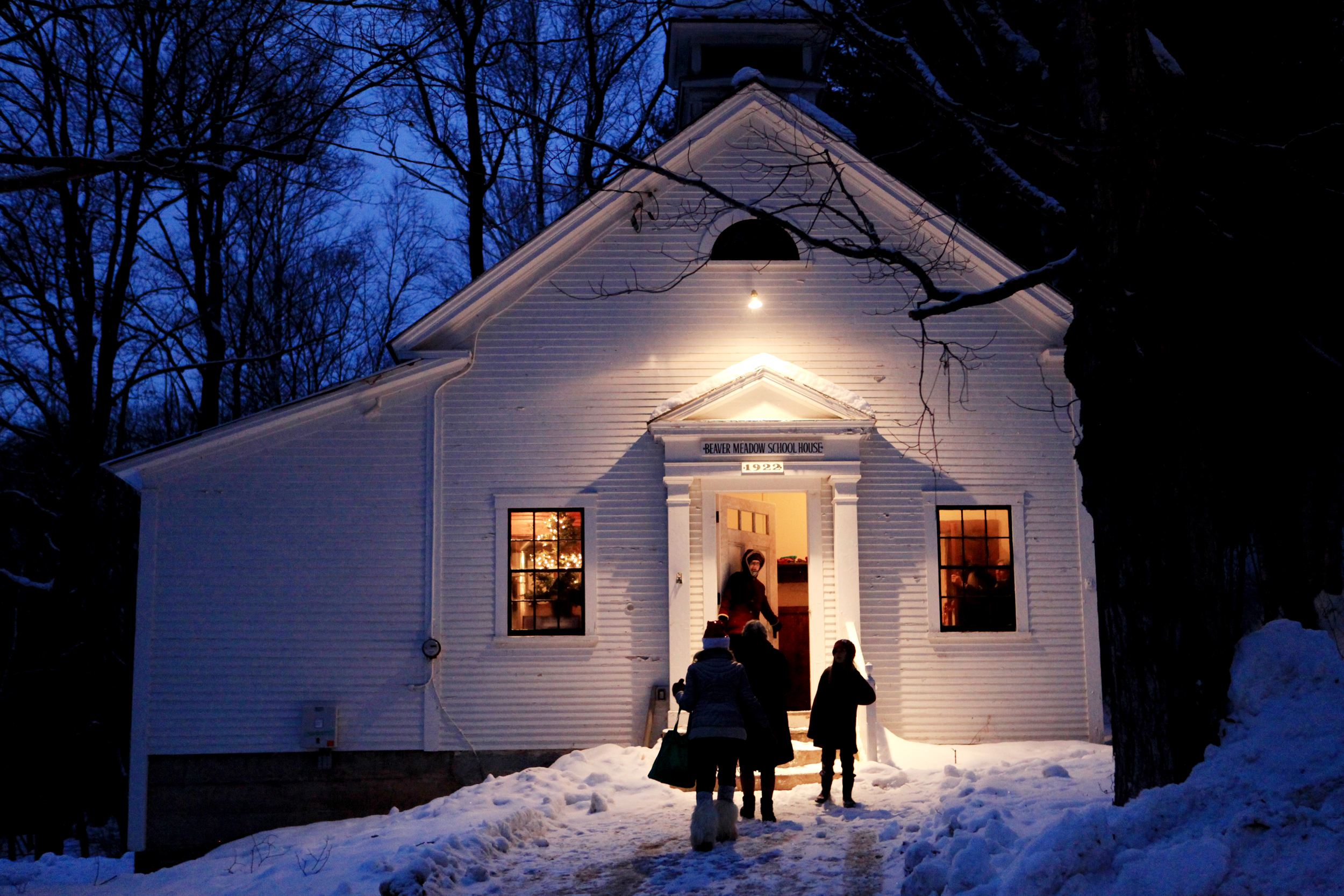 Light from the Beaver Meadow school house in Norwich, Vt. beckons those coming to the holiday service and potluck on Dec. 21, 2014.